What better way to keep that head of yours nice and toasty warm on those cold winter days than a SKULLY. The SKULLY features a unique four panel crown construction, moisture wicking spandex head band, DWR fabrics and 950WGD to ensure all day comfort.
Hand Crafted in the USA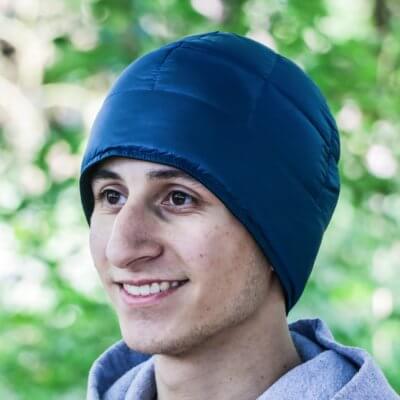 *Temp rating subjective based on end user

| Size | Med (23") | Lg (24") | XL (25") |
| --- | --- | --- | --- |
| Fill | 13g 950-WGD | 14g 950-WGD | 15g 950-WGD |
| Inner | Black M10/Dry wicking spandex | Black M10/Dry wicking spandex | Black M10/Dry wicking spandex |
| Outer | MRS20 | MRS20 | MRS20 |
| Temp Rating | 10*F - 30*F | 10*F - 30*F | 10*F - 30*F |
| Finished Weight | 30g/1.07oz | 32g/1.14oz | 34g/1.21oz |
Be sure to check and double check your measurements to avoid sizing errors. These are slightly snug fitting by design.
It is important to sta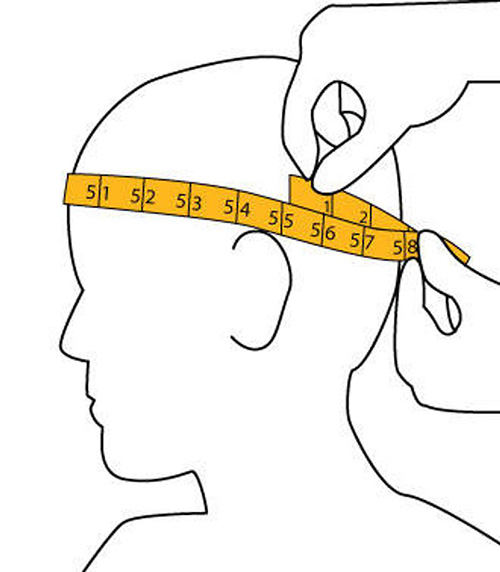 rt the whole process off by measuring your head properly. All you really need to get started is an accurate tape measure. Do not try and measure the inside of an existing hat that fits. You need to go right to the source and measure the circumference of your head to get an accurate foundation to start your search for the hat that fits properly.
Place the tape measure just above you eyebrows and measure around the base of your skull. Be sure to include your ears in the measurement as the Skully is intended to cover your ears. If you measure a 21.5″ buy a S-22″, if you measure a 23.25″ buy a L-24″. DO NOT DOWN SIZE, the Skully will be snug and not fit properly.
*Note: We do offer one free exchange for one full size up or down, just return the Skully in its original unused condition, to our shop within 14 days of receipt. Be sure to include your requested size exchange and we'll get it heading back your way ASAP.
Warranty
UGQ Outdoor LLC warrants its products will be free from defects in materials and workmanship to the original owner for the lifetime of the product. If a warranty claim is validated, we will repair, replace or refund, at our option, the damaged product. The Limited Lifetime Warranty does not cover damage caused by normal wear and tear, accident, lost or stolen items, improper care or cleaning, non-standard usage, negligence or after-market modifications.
Lifetime of the product means the lifetime of the components, fabrics and materials of the warrantied product. Materials and components wear out, deteriorate and fade over time, depending on the products exposure to the elements and how the product is used and cared for. Our warranty does not cover products that fail or are damaged due to wear and tear.
Our Limited Lifetime Warranty does not include return shipping to our location.
Repairs arising from abuse or neglect of the product (e.g., torn fabric or rot caused by improper storage) will be done at reasonable rates.  We will provide you with an emailed estimate of the details of the necessary repairs, as well as the estimated cost, before any repair is performed.
Share your thoughts about the UGQ SKULLY - Robin Egg Blue